W trosce o zdrowie Polonii
W trosce o zdrowie Polonii
November 2, 2015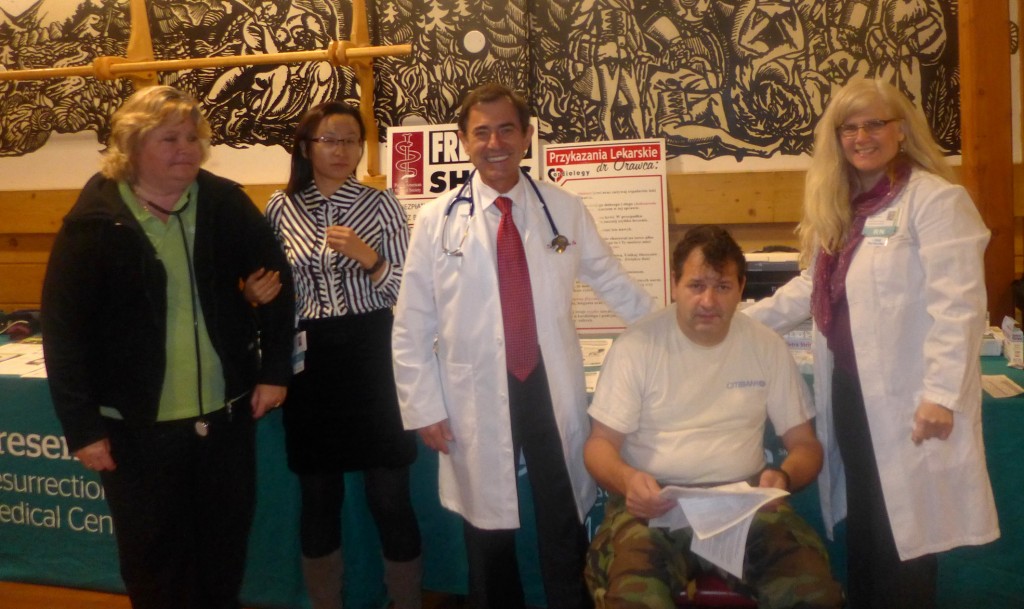 Foto: M. Sowa, B. Orawiec
29 oraz 31 października 2015 r. przeprowadzono bezpłatne badania na wybrane czynniki ryzyka chorób serca, szczepienia przeciwko grypie oraz konsultacje kardiologiczne dla Polonii w Chicago. Organizatorem akcji był dr Bronisław Orawiec.
W celu podniesienia świadomości zdrowotnej oraz poprawy stanu zdrowia polonijnej społeczności została przeprowadzona kolejna akcja badań na wybrane czynniki ryzyka chorób serca, w tym badania poziomu cukru we krwi, pomiary ciśnienia tętniczego krwi, obliczanie wskaźnika masy ciała (BMI) oraz szczepienia przeciwko grypie. Darmowe badania zostały przeprowadzone 29 listopada w Domu Podhalan oraz 31 listopada 2015 r. w klinice dr. B. Orawca. W tegorocznej akcji skorzystało sto osób. Głównymi sponsorami byli: Orawiec Cardiac Fund PAMS, Handzel Open Inc., Presence Resurrection Medical Center, Związek Lekarzy Polskich w Chicago, Związek Podhalan w Północnej Ameryce oraz organizator.
Należy podkreślić, że ciśnienie tętnicze, poziom cholesterolu, lipidów, cukru we krwi i otyłość to czynniki, które po przekroczeniu określonych norm, mogą powodować zagrożenie zdrowia i życia. Są one głównymi czynnikami choroby wieńcowej oraz miażdżycy naczyń. Jeśli chodzi o szczepienia przeciwko grypie to warto przypomnieć, że każdego roku szczepionkę powinny otrzymać osoby starsze, które mają problemy zdrowotne m.in.: choroby serca, choroby płuc, anemię, astmę, choroby nerek, cukrzycę, a także osoby prowadzące prace o charakterze usługowym z dużą ilością kontaktów. Podczas badań były dostępne broszury informujące o sposobach zwalczania głównych czynników ryzyka miażdżycy oraz zalecenia dietetyczne w języku polskim i angielskim.
W tegorocznej akcji uczestniczyły społecznie następujące osoby: Mariana Wrzosek, RN (Event Manager), Lisa Byers, RN, Marcia Tenezaca, RN, Lena Won, LPN z Presence Resurrection Medical Center oraz Elżbieta Dąbrowa i Joanna Sewillo z kliniki dra Orawca. Wszystkim tym osobom składam gorące podziękowania za zaangażowanie i czas.
BO