65th Physicians' Ball of the Polish-American Medical Society in Chicago January 31, 2015 at the Ritz-Carlton
65th Physicians' Ball of the Polish-American Medical Society in Chicago January 31, 2015 at the Ritz-Carlton
February 17, 2015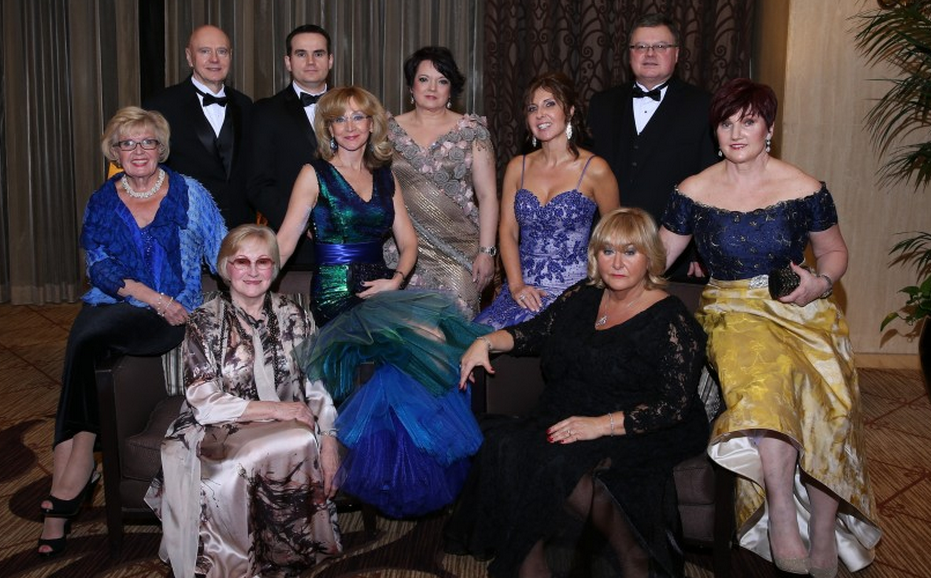 For more photos of the event please see the Gallery on the Physicians Ball 2015 page.
Our annual benefit Ball has become a tradition through the years, as it brings together and bonds Polish-American physicians and supports our goals to serve Chicago-area Polonia, assist medical newcomers, raise funds for scholarships for Polish-American students of medical sciences and help numerous charitable causes.
This year's Physicians' Ball on January 31 at the Chicago's Ritz-Carlton was attended by more than 500 guests, inacluding (thanks to their half-price tickets) many students and young physicians. The program was emceed by the well-known Chicago celebrities Alan Krashesky, ABC7Chicago anchor and reporter; and Candace Jordan, a Chicago Tribune journalist.
This year the Society saluted and welcomed a special Guest of Honor – Krzysztof Matyjaszewski, Professor of Natural Sciences at Carnegie Mellon University, internationally recognized polymer chemist, author of over 800 publications, recipient of over 20 prestigious awards and seven honorary doctorates from five countries.
Four extraordinarily accomplished Polish physicians from Europe and the US were elected as Honorary Members of the Polish-American Medical Society:
Dr. Kazimierz Nowak from London, GB – a surgeon, the founder and first President of the Federation of Polish Medical Organizations Abroad;
Dr. Ewa Elenberg from Houston, TX – a pediatric nephrologist, Associate Professor at Baylor College of Medicine;
Dr. Miroslaw Wielgos from Warsaw, PL – a fetal-maternal specialist, Professor and Head of the Department of Obstetrics and Gynecology and a Dean at the Warsaw Medical University;
Dr. Michael Hibner from Phoenix, AZ – a gynecologic surgeon, Professor and Director
of Surgery and Arizona Pelvic Pain Center at the St. Joseph Hospital in Phoenix.
This year we were also honored to welcome several Special Guests:
Hon. Bruce Rauner, Governor of Illinois
Hon. Elzbieta Radziszewska, Deputy Speaker of the Parliament of the Republic of Poland
Hon. Paulina Kapuscinska, Consul-General of the Republic of Poland
Dr. Kenneth Busch, President of the Chicago Medical Society
Prof. Andrzej Matyja, President of the Malopolska Region Chamber of Physicians
Dr. Alicja Brzozowska and Mr. Tucson Dunn, Medicover, Poland
Hon. Paulina Kapuscinska, on behalf of the Ambassador of the Republic of Poland, chose this occasion to present Governor Rauner with the medal Amicus Poloniae for his cooperation with Chicago's Polish community.
She also bestowed, on behalf of the Foreign Minister of the Republic of Poland, the medal Bene Merito on Dr. Izabela Roman for her many years of supporting charitable and cultural causes in Poland and in Chicago.
Dr. Halina Aniol and Dr. Bronislaw Orawiec were recognized as best sport-persons of the year.
The special annual monetary award of the Polish-American Medical Society was given to the Polish Scouting Organization – ZHP, in recognition of their many years of inspiring work with Polish youth in Illinois and was accepted on their behalf by Ms. Barbara Chalko.
This year, entertainment included a special concert performance by the famous
Golec uOrkiestra, to the great applause of the Ball guests. Music by Second Opinion was appreciated during reception. Wici ensemble and their rendition of the traditional polonaise were also greeted with enthusiasm.
Dancing to the music by Rendezvous continued until 2:00 am.
The raffle was also a success – with many fabulous prizes, it contributed a needed support to our endeavors.
This year's beautiful Ball was the result of the work of many individuals who volunteered their valuable time. It is the dedication of the Society's Board, the Ball Organizing Committee and many other friends that made this spectacular evening happen. We are also grateful to several businesses and foundations for their support. Their contributions and sponsorship are greatly appreciated.
The proceeds from Physicians' Balls have supported many worthy causes. The tradition of philanthropy continues. This year's proceeds, in addition to the award for the Polish Scouting Organization, are again allocated towards our Educational Funds, providing grants and scholarships to medical, dental and veterinary students of Polish origin in the Chicago region,
I would like to thank you all for supporting our mission and for attending the Ball.
I hope to see you again next year – our next Physicians' Ball will be on February 6, 2016.
Let's work together to make it another success.
Kornelia Krol, M.D.