WELCOME TO THE POLISH-AMERICAN MEDICAL SOCIETY IN CHICAGO
The PAMS was established in 1946 in order to facilitate social and professional relations, as well as improve and promote the status of the Polish physician émigré community in the United States. The Society organizes numerous fundraisers for charitable causes, including the annual Physicians' Ball at the Ritz-Carlton in Chicago to raise scholarship funds for medical students of Polish descent. We invite you to visit us frequently for updates on our activities and upcoming events.
Kornelia Krol, M.D.

President, Polish-American Medical Society in Chicago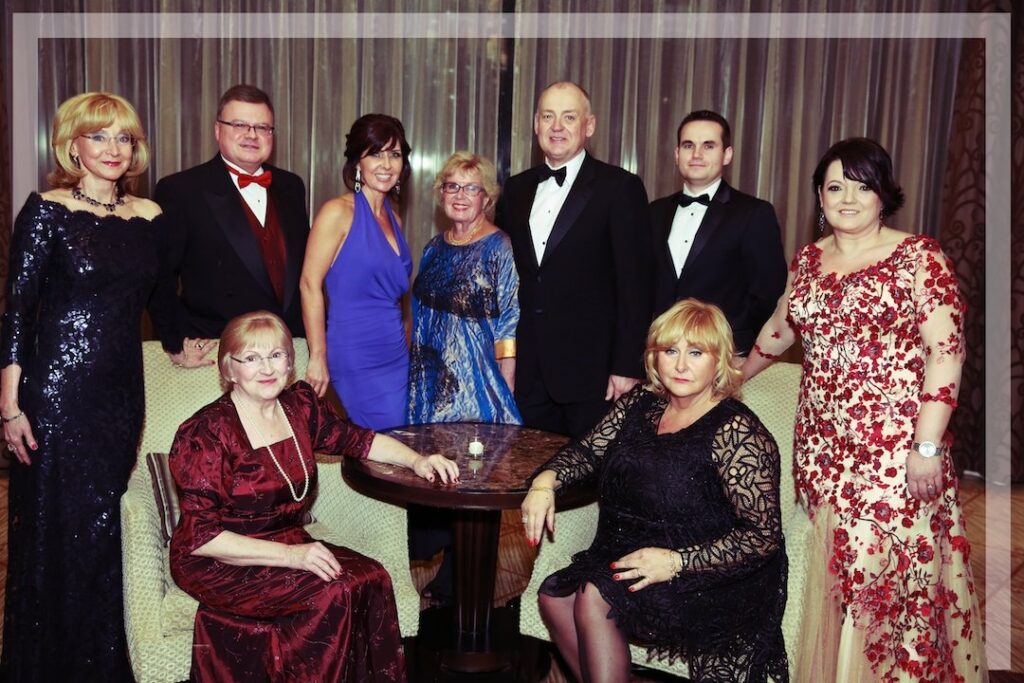 Sitting: Ewa Radwanska M.D. (Vice-President),  Eva Bloda, M.D., D.D.S. (Vice-President)
Standing from left to right: Ewelina Worwag M.D. (Secretary), Adam T Cios, M.D. (Treasurer),  Beata Danek M.D. (Board Member), Eva Kiljanska-Buch M.D. (Secretary), Józef Mazurek, M.D. (Past President), Lukasz Chebes M.D. (Board Member), Kornelia Król, M.D. (President)
Chicago, 11 lutego 2014 r.
Szanowni Państwo,
Drodzy Koledzy Narciarze,
Uprzejmie informuję, że w dniach 15 – 22 marca 2014 r. organizowane jest przez Dr. Zbigniewa Kosteckiego
oraz P. Wiesława Jabłońskiego (Jawa Reisen) zimowisko w miejscowości Livinio, Italia (Hotele: Villiagio San Carlo
oraz Intermonti) w Alpach włoskich, podczas którego odbędą się XVIII Światowe Mistrzostwa Lekarzy Polonijnych
w Narciarstwie Alpejskim.
Lista uczestników jest już wlaściwie zamknięta (295 osób !), ale otrzymałem wiadomość, że są jeszcze 2 wolne pokoje ponieważ ktoś zrezygnował. Gorąco zachęcam chętnych do dokonania jak najszybciej rezerwacji drogą emailową na adres: kostecki@polonia.org.
Informacje dotyczące XVIII Światowych Mistrzostw Lekarzy Polonijnych w Narciarstwie Alpejskim zostaną przesłane wkrótce.
Łączę serdeczne pozdrowienia.
Z powazaniem,
Bronek Orawiec
Tel. 773-594-1515
E-mail: drorawiec@yahoo.com
The following is a press release published by permission by the Consulate General of the Republic of Poland in Chicago.

Consul Paulina Kapuścińska hosted on Friday, January 31, representatives of the Polish American Medical Society who arrived in Chicago to attend the 64th Annual Physicians' Ball on February 1, 2014.
On behalf of the Society, its President Kornelia Król thanked Consul General Kapuścińska for her support and spoke about the Society's activities in 2013. Kornelia Król introduced a number of female physicians, especially distinguished for their outstanding charitable work and the promotion of Polish culture and heritage in the world: Jadwiga Roguska-Kyts (USA), Bronisława Siwicka (Lithuania), Krystyna Grabowska (Zimbabwe), Stella Nowicka (USA), Maria Ogonowska-Wiśniewska (Zambia).
The meeting  was also an opportunity to officially welcome Professor Maria Siemionow who returned to Chicago after 19 professional years spent in Cleveland.
During the 64th Annual Physicians' Ball in Chicago, Consul General Paulina Kapuścińska awarded the Cavalier's Cross of the Order of Merit – on behalf of the President of the Republic of Poland – to Ms. Ewa Radwańska for her long-standing contribution to the advancement of Poland's good name abroad.
CHICAGO – The Polish-American Medical Society will induct five extraordinary Polish female physicians as new international Honorary Members at its 64th Annual Physicians' Ball on February 1, 2014 at the Ritz-Carlton. Additionally, Chicago-based distinguished physician Prof. Ewa Radwanska will be decorated with the Cavalier's Cross of the Order of Merit by the Consul General of the Republic of Poland.
The proceeds from the Ball will go to the Gift from the Heart Foundation, helping children from Poland receive specialized surgical treatment in Chicago.
"With more than 480 physician-members who represent many specialties, we are the largest Polish medical émigré organization in the world," said Society President Dr. Kornelia Król. "Our goals are to integrate medical professionals, serve Chicago-area Polonia and support students of medical sciences though scholarships. We are also a major supporter of numerous charitable causes through fundraising efforts."
The Ball will welcome five distinguished Honored Guests, who will travel from three continents to attend.
Dr. Krystyna Grabowska is a graduate of the Silesian Medical University, and also studied in the U.K., Sweden and Germany. She settled and worked in Zambia in 1981, and Zimbabwe in 1985, where she teaches at the University Hospital in Harare and heads a large private practice. She is the Honorary Consul of the Republic of Poland in Zimbabwe.
Dr. Stella Nowicki, a dental graduate of the Gdańsk University Medical Academy, is an Endowed Professor in the Departments of Obstetrics and Gynecology and Microbiology as well as founding Scientific Director of the Center for Women's Health Research at Meharry Medical College in Nashville, Tenn. She is author of more than 180 publications, an active member of numerous scientific societies, and serves on editorial boards of immunology and infectious disease journals.
Dr. Jadwiga Roguska-Kyts is a graduate of the Poznań University Medical Academy. She completed her residence and fellowship training at Northwestern University in Chicago and has worked there for 50 years as a researcher, educator, nephrologist and faculty member. She has also worked as Attending Physician at Cook County and VA Hospitals in Chicago. Her Charitable Foundation recently provided funding for the construction of a large new center for Alzheimer's patients in Poznań, Poland.
Dr. Bronislava Sivicka lives and works in Lithuania and received her medical degree from the University of Vilnius in 1967. She has served as Director of Internal Medicine at a Vilnius hospital, Chair of Medicine at the University Hospital, and Director of post-graduate training programs. She is author of more than 40 scientific publications, and serves as President of The Polish Medical Society in Lithuania.
Dr. Maria Ogonowska Wisniewska is a graduate of the Warsaw University Medical Academy, and has worked in Zambia for 40 years, specializing in Aviation Medicine. She has worked as the head of the local Red Cross, was instrumental in the building of the local cathedral as well as organized Pope John Paul II's visit to Zambia. She is the Honorary Consul-General of the Republic of Poland in Zambia.
The Polish-American Medical Society was founded in 1946. Throughout the years, the Society has organized professional events, assisted medical newcomers and initiated various medical efforts that benefit the Polish-American community. Past monetary award receipts include the Polish Museum of America, the Lira Ensemble, the Polish Arts Club, the Polish-American Association, the Amber Coalition and the Kościuszko Foundation, among others. The Society annually awards scholarships to medical, dental and veterinary students of Polish origin from the Chicago region.
The Polish-American Medical Society is based in Chicago. For more information, visit www.zlpchicago.org