WELCOME TO THE POLISH-AMERICAN MEDICAL SOCIETY IN CHICAGO
The PAMS was established in 1946 in order to facilitate social and professional relations, as well as improve and promote the status of the Polish physician émigré community in the United States. The Society organizes numerous fundraisers for charitable causes, including the annual Physicians' Ball at the Ritz-Carlton in Chicago to raise scholarship funds for medical students of Polish descent. We invite you to visit us frequently for updates on our activities and upcoming events.
Kornelia Krol, M.D.

President, Polish-American Medical Society in Chicago
SPONSORED MEMBERSHIP ADVERTISEMENT
Date: November 16, 2014 3pm-7pm
Place: Shaw's Crab House http://www.shawscrabhouse.com/
1900 E Higgins Rd, Schaumburg, IL 60173 tel: 847-517-2722, Map: https://goo.gl/maps/Dn5KN
Speaker: Lukasz Chebes, M.D.
Lecture Title: "Spinal Cord Stimulation: Percutaneous Trial to Permanent Implantation"
Sponsor: Medtronic Neuromodulation, Rep. Steve Willuweit
If there are still those out there, who have not paid dues for 2014, or want their bus card displayed on our web site (www.zlpchicago.org) for additional $50, please bring checks/cash!
Zapraszamy!
President and Board PAMS
On September 7th, 2014, a third quarterly meeting of the Polish American Medical Society took place at Embeya restaurant in Chicago. 26 members participated. The event, sponsored by Synageva Biopharma Corp., was organized by the members of the Society and chaired by PAMS President, Dr. Kornelia Krol.
After welcoming notes, Dr. Krol introduced all invited guests and two new members:
*            Dr. Piotr Witkowski, MD, PhD, Assistant Professor of Surgery, Director, Pancreatic and Islet Transplant Program, The University of Chicago.
*            Dr. Agnes Hartuk
Also present were past presidents of PMA, Dr. A. Szpindor, Dr. J. Mazurek, Dr. M. Gawrysz, as well as a visiting from Poland, Dr. Jerzy Piwkowski.
Dr. Krol presented some of the more significant events which took place over the past 3 months:
*            "Lives in Medicine" Conference, organized by Society for Polish-American Pre-Health Professionals. During the conference, members of PAMS talked about various aspects of practicing medicine in US. Especially popular was a discussion directed towards young people attending medical schools in Poland.
*            XIX Family Picnic in Lake Villa, IL.
*            Quarterly meeting November 16,2014. A new sponsor will be discussed.
*            Urology Fellowship at the University of Chicago. A doctor from Poland will be able to study and research the most advanced techniques and procedures. Dr. Radwanska and Dr. Krol represents PAMS in discussions with UofC.
*            65th Physicians Ball – January 31, 2015 Ritz-Carlton, Chicago
Dr. Krol introduced guest speaker, Dr. Ruba K. Azzam, MD, Associate Professor of Pediatrics, Director of Pediatric Hepatology, Medical Director, Pediatric Liver Transplant Program, The University of Chicago. Dr. Azzam presented a lecture on "Fatty Liver in Children – Not All is NASH". The 45-minute presentation and following discussion were well worth the trip downtown.
The official part of the meeting was followed by dinner, full of ensuing discussions about the role of the PAMS, incoming Ball, and meetings with young Polish students interested in studying medical sciences.
Kornelia Krol, M.D.
Zapraszamy na impreze, jakiej jeszcze nie bylo!!! Muzyka, obiad, hulanki i swawole oraz Fashion Show z obiadem prezentowanym przez naszych polonijnych lekarzy!
$75/osobe, rezerwacje do 10/25 (preferujemy czeki, można placic kartą kredytową wypełniając poniższy formularz)
Another evening of fun and chance to meet friends and raise money for our charitable causes!
Date: Sun, Nov 9, 2014 6pm-9pm
Venue: Klub Jedynka, 5616 W Diversey Ave, Chicago, http://www.stereochicago.com/
Map: https://goo.gl/maps/YUTpe
RSVP: BDanekMD@hotmail.com by 10/25 with your mailed check for $75/pp
Aby zapłacić kartą kredytową, prosimy o wypełnienie poniższego formularza. Po kliknięciu "SUBMIT" zostaną Państwo przekierowani na strony PayPal'a, gdzie można dokonać płatności za bilety. Dziękujemy i zapraszamy serdecznie.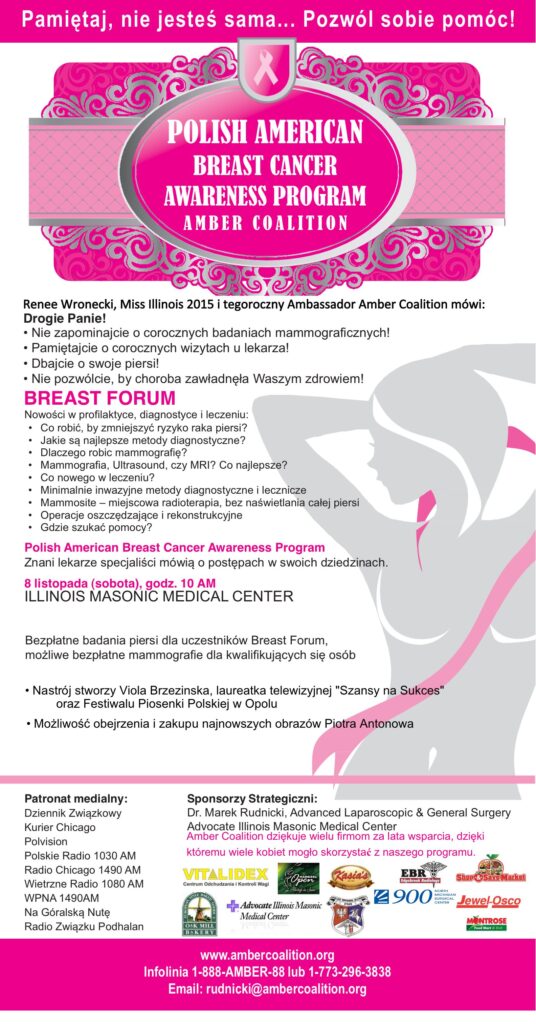 Od wielu lat w miesiacu pazdzierniku organizujemy spotkania edukacyjne poswiecone promocji wiedzy o raku piersi. W tym roku beda dwa takie spotkania: 19 pazdziernika (niedziela) w Domu Podhalan, godz. 2pm oraz 8 listopada (sobota) w Illinois Masonic Medical Center, 10am w Chicago.
Obie Konferencje (Breast Forum) sa spotkaniami dyskusyjnymi dla wszystkich – tych ktorzy chca sie wiecej dowiedziec od specjalistow; tych, ktorzy slyszeli o chorobie i chca wiedziec wiecej oraz tych dotknietych choroba. To rowniez Forum dla dyskusji, co wspolnie winnismy robic, by zmniejszyc ryzyko zachorowania.
Msza sw. w Bazylice Sw. Jacka rozpoczyna nasza tegoroczna akcje, da okazje dla chwili zadumy I refleksji nad problemem, z ktorymi zmagamy sie w naszej codziennosci – niedziela, 12 pazdziernika, godz. 12.30.
W imieniu Amber Coalition – zapraszam.
W zalaczeniu poster informujacy o szczegolach.
Marek Rudnicki, MD
On August 23rd, Society of Polish American Pre-Health Professionals, a society of young Polish American professionals, considering pursuing post graduate studying and  their careers in health care associated fields, organized all day conference at the Polish Museum of America. Polish American Medical society was one of the main sponsors of this successful event and many of our members attended this conference providing their guidance and input, either through formal lectures or in informal mentoring sessions. Among many others, the following members attended: Drs: K.Krol, M.Siemionow, M.Rudnicki, J.Mazurek, A.Szpindor, A.Cios, J. Dlugopolski-Gach.
Dziennik Zwiazkowy: http://dziennikzwiazkowy.com/polonia/studenci-i-adepci-kierunkow-medycznych-na-wspolnej-konferencji
The text below, courtesy of Andrzej Mikolajczyk
"LIVES IN MEDICINE" CONFERENCE
RESPONDING  TO A GREAT NEED IN AMERICAN SOCIETY
The "Lives in Medicine Conference" took place on Saturday, August 23, 2014 at the Polish Museum of America.  It was a full day conference with a number of interesting presentations and workshops. Approximately 60 students and aspiring healthcare professionals attended the conference.
The day included various seminars about the application process, a small group mentoring lunch with current students and health professionals, and a resource fair featuring a dozen medical organizations and institutions from around the Midwest.
The purpose of the Conference was to create an opportunities for aspiring students who are ready "to step into the life of a healthcare professional and strengthen their  current position in the increasingly competitive applicant pool".
Chet Szerlag, Vice Chair for Finance and Director of Administrative Operations at the University of Illinois Hospital and Health Sciences System gave a very insightful presentation "Healthcare: an Industry and It's Professions in Transition".  Szerlag presented many vital facts about the current changes in our healthcare system.  He discussed future trends and transitions in the health care system.  The Baby Boomer generation (1946-1963), currently the largest generation in the US, is reaching retirement age by the thousands every single day.  This will create an incredible need for additional health care services.
"What exactly does the life of a PA or DO/MD look like? What can I really expect from a career in healthcare? What healthcare profession fits me best?" These were some of the questions that students heard the answers to.  The advice that they received will help them clarify their individual paths to a life in medicine.
Dr. Kornelia Krol, President of the Polish American Medical Society in Chicago and a practicing obstetrician and gynecologist, gave a presentation titled "Considering Your Options Before Match". Her talk included an overview of the advantages and disadvantages of studying medicine abroad.
Dr. Josephine Dlugopolski-Gach shared some personal experiences from her path to becoming a physician, including her service as a community volunteer and activist. She is a specialist in internal medicine and pediatrics at Loyola University Medical Center currently.
Dr. Anna Szpindor, former President of the Polish American Medical Society and currently a practicing allergist, shared some insights about mentoring. She was excited to see her daughter-Marysia Szpindor-Watson, a medical student, leading the Conference as a co-chair of the organizing committee.
The Society of Polish American Pre-Health Professionals (SPAPP), is dedicated to helping students learn about careers in healthcare and how to reach them. Their goal is "to entice, foster and support passion for medicine in young Polish Americans through mentorship, scholarship and opportunity". By connecting current medical professionals with aspiring professionals, they hope to provide people interested in health careers with a better understanding of the profession that best fits with their genuine passions, interests and lives. Organizing the "Lives in Medicine" conference is one way they are working to achieve their goal.
Another purpose of the Conference was provide participants with an understanding of different paths to becoming a healthcare professional and to give them the opportunity to be mentored by current medical students, residents and professionals.
The Keynote Address during the Conference was presented by Dr. Maria Siemionow, MD/PhD, who is a renowned Polish-American surgeon. She shared some of the challenges that she faced and her experiences leading up to the first face transplant in the United States. She coordinated a team of two dozen medical experts during 22 hours of complex face transplant surgery. Her patient is currently alive and her life has been transformed by the surgery. She now feels more accepted by society and enjoys her life. Dr. Siemionow's primary objective during the full face surgery was to help the patient regain the basic functions of her face.
There have only been several dozen face transplant surgeries in the world during the last two decades. The risks for such surgeries are very high. They require a team of experts and afterwards they require cooperative patients due to the lifetime requirement for immunosuppressive medication.
The conference was organized by Joanna P. Tomaszewski, research associate at Lurie Children's Hospital, Marysia Szpindor-Watson, medical student, Lukasz Sewera, MD-PhD student, Patricia Jamrozowich, health systems management professional, Angelica Rusilowski, PA student, Martin Wrobel, medical student, Agata Turowski, health systems administration student and Agatha Kielczewski, publicity chair.  They truly deserve recognition. The conference was well organized, with presentations by renowned medical professionals from different medical institutions in the Chicago area and in the Midwest.
To learn more, visit their website at www.SPAPPchicago.com  or visit them on facebook at facebook.com/SPAPPconference .
@ text by Andrew Mikolajczyk
XIXth Annual Family Picnic of the Polish American Medical Society took place Sunday August 17th at beautiful" Jack and Lidia Resort" also known as "Honorary Polish Village" in Lake Villa, IL, on the shores of Deep Lake in far north suburbs.
Jack and Lydia are also running a restaurant called "Reflexions" which is part of this large recreational complex.
In spite of a long distance from Chicago, we had very good turnout , over 60 members with families and many devoted sympathizers…
The weather was sunny, the mood was exciting, and the location was great, but the people in attendance made our annual PAMS picnic a wonderful success!
The picnic was skillfully organized by Dr. Beata Danek (PAMS board member),
Both old and new faces made appearances at the picnic. We all reminisced about the good times, listened to great live music, provided by Dr.Tucci, Dr. Niekrasz and his charming wife Iwona Niekrasz, entertaining us with some smooth, yet up-beat jazz that screamed dance! If only there had been a dance floor, then the party might have lasted into the early morning!
We also feasted on delicious grilled polish food provided by the resort owners, and later cooked kielbasa by the fire pit.
Some of us mustered up the courage to take out one of the paddle boats on the lake, and then proceeded to bask in the sun, some swam, some played beach volleyball and there was a competition going on in beanie bags toss.
The relaxation and fun lasted well into the evening hours.
We are already planning for the next year, in the same place and can only hope that this enticing description of the picnic will attract more of you in the future.
Written by Drs. E. Worwag and E.Buch
On Aug 3rd, 2014, at Chicago Jesuits Center, Dr. Anna M. Wegierek, PsyD, had interesting and important lecture on bullying, cyber-bullying, sex-ting, aggression, internet pedophiles etc. This was an open and free forum, well attended and well received and co-sponsored by Polish American Medical Society. The need for this type of information in our community is so great that Dr. Wegierek is already planning another lecture in November 2014. More information at:  www.wegierekpsychology.com
We invite all PAMS members to attend our quarterly meeting on Sunday, Sep 7th at 2.30 pm at Embeya Restaurant. All those who have not paid their annual membership dues yet: please bring your checks/cash.
Agenda:
Speaker introduction – Dr. K. Krol, President
Lecture – Dr. Ruba Azzam ( University of Chicago) Topic: "Fatty Liver in Children – Not All is NASH"-see more about our speaker below|
Introduction of new members
Summary of PAMS events for last 3 months:
XXIII  PAMS Tennis Tournament
Family picnic
Lives in Medicine Conference, Aug 23rd
Cooperation with University of Chicago
Report on progress in students clerkships:
Loyola University
University  of Illinois in Peoria
Website updates:
IMG' info
Students inquires
PAMS November meeting
65 Physicians' Ball – Jan 31, 2015
Membership
Time:
Sunday September 7th, 2014 – 3PM-7PM
Location:
Embeya Restaurant
564 West Randolph Street
(Corner of N Jefferson St and W Randolph St)
Chicago, IL 60661
http://www.embeya.com
Parking:
Valet Parking at Embeya – $12
Surface Lot ½ block before Randolph on left side of Jefferson at approximately 112 N Jefferson St – $7
Street Parking
Speaker:
Ruba K. Azzam, MD
Associate Professor of Pediatrics
Director of Pediatric Hepatology
Medical Director, Pediatric Liver Transplant Program
University of Chicago
Ruba Azzam, MD, specializes in treating children with conditions related to hepatology, gastroenterology and nutrition. Her clinical interests include hepatobiliary diseases, liver transplantation, pancreatic disorders and the full range of gastrointestinal diseases. Dr. Azzam has authored several publications in peer-reviewed medical journals and book chapters focusing on liver-related research as well as general gastroenterology, hepatology and transplant hepatology. http://www.uchicagokidshospital.org/physicians/ruba-azzam.html
Topic:
"Fatty Liver in Children – Not All is NASH"
On June 22, 2014, seventy-eight members of the Polish-American Medical Society met for a quarterly meeting at the residence of the PAMS President Dr. Kornelia Król.
We had the honor to host this years special guests, Prof. Ramaz Kurashvili and Dr. Elena Shelestova, who visited from the National Center for Diabetes Research in Tbilisi, Georgia.
Ms.Anne Zenzer represented the Cebulski Trust, which donated funds for student scholarships. Joanna Tomaszewski and Lukasz Sewera represented the Society for Polish-American Pre-Health Professionals, which organized the "Lives in Medicine Conference".
We also welcomed new PAMS members: Drs. Ewa and Dariusz Borys, and Dr. Ewa Wójcik, pathologists from Loyola University Medical Center, Dr. Arthur Tokarczyk, anesthesiologist from NorthShore University Health System, and Dr Piotr Witkowski, transplant surgeon from The University of Chicago. We are very excited that they have joined our society.
We welcomed new board member Dr. Jagoda Samulak, who replaced Dr. Bartek Nierzwicki.
A report summarizing PAMS activities in last 3 months was presented by Board President, Dr K. Krol. Besides traditional participation in Chicago Polonia events, and sport events, we initiated one very new project to increase cooperation between PAMS and academic institutions in Chicago. Our goal is to help medical students studying abroad in finding medical clerkships and observerships in American hospitals. This in turn might improve chances of admission into limited residency positions.  Cooperation with The University of Chicago has been especially fruitful, thanks to involvement and personal help of some academic physicians in this university.
PAMS is in the process of recruitment for a urologist from Poland for fellowship in urological oncology offered by University of Chicago's Urology Department.
The treasurer, Dr Adam Cios, presented a short budget summary. As a means of increasing revenue, physicians will be able to place advertisements on our website for a cost of $50.00 per year.
Traditionally, the June quarterly meeting is devoted to present scholarship awards for medical, dental and veterinary students  of Polish descent.  President of PAMS Scholarship Committee, Dr. Ewa Radwańska handed out checks and diplomas to 11 students studying in US and in Poland.
Later in the evening, we were privileged to listen to a fascinating lecture "Quo vadis regenerative medicine" given by professor Mariusz Ratajczak from the University of Louisville Kentucky. He is an internationally known specialist in the field of stem cell research.
The meeting ended after a light and healthy meal accompanied by many stimulating and warm conversations between PAMS members and guests.
Meeting was sponsored by Dr. Kornelia Król and PAMS.
Kornelia Krol, M.D.
President, PAMS in Chicago